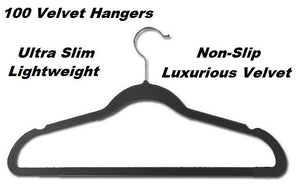 AMAZON
100 Black Space Saving Velvet Coat Hangers
Regular price
$189.00
$0.00
Unit price
per
BONUS 16 Cascading Hooks, 12 Finger Clips & 2 TIE RACKS!
An inexpensive solution to your closet makeover!
No more jamming your clothes in your closet and no more clothes falling and lying rumpled on the floor. The velvety surface of our hangers will make your clothes cling to them and keep your closet organized and your clothes wrinkle-free. This velvet-touch will keep clothes from the sheerest, delicate material to the heaviest jeans and jackets safe on their hangers. The hangers are designed with two indentations on both sides to facilitate hanging clothes that have straps. These hangers will transform your closet. Your clothing will stay neat and your life will be more organized.
Features:
· Luxurious Non-Slip Velvet Material
· Saves closet space
· Ultra-slim, light-weight design
· Securely holds heavy winter coats as well as the most delicate gowns, even those with spaghetti-straps
· Design of the hanger maintains shape of clothing
· Scoop neck and turtle necks hang securely
Cascading Hooks
Our cascading hooks economize space and help keep your closet organized by taking advantage of previously wasted vertical space. Clothes hanging on our velvet hangers can be "stacked" on our cascading hook. By using these space savers, you will be able to double and even triple the space in your closet. You save valuable horizontal bar space by forming vertical rows of hanging clothing. The cascading hooks add versatility to your closet design. You can organize clothing by hanging men"s shirts with ties and women"s blouses with their coordinating accessories.
Features:
· Hang multiple garments while maximizing your existing space
· Easily slide over hanger hooks
· Create extra horizontal space by creating vertical rows of clothing
· Cascading hooks are made of soft velvety material
Finger Clips:
Your closet transformation will not be complete without a supply of our velvet finger clips. These stylish and amazing clips hold everything neatly and securely from the chicest slinky skirts to the heaviest jeans and trousers. Children"s closets benefit from these finger clips which enable even the smallest pieces of clothing to hang neatly and not crumpled up in a heap on the floor.
The clips are easy to use even for children. They can be attached with one hand while the other hand is holding the garment. The finger clips contain no metal so there is no worry about rusty stains showing up on your fine wear. The velvety surface of the clips precludes any danger of tears or rips. They slide easily along the main closet rack and can be adjusted to the desired width making them the ultimate in versatility. Most importantly, your clothes, no matter the material and size, will always stay put!
Features:
· Skirts and pants hang neatly
· Fine fabrics and heavy jeans hang with equal security
· Their velvet surface takes away any fear of tears, rips or stains
Accessory Rack:
Complete your closet renovation with our velvet tie/scarf and belt rack. This rack features a velvet exterior and can safely hold dozens of scarves, belts and ties. All your accessories will be in one place with easy access which will help you in preparing for your busy day.
The slim design of the accessory hanger will make way for even more space in your closet. The surface is ideal as slippery scarves and ties that will cling to it. By adding an accessory hanger to your closet design, you will no longer be hunting down a favorite tie or scarf and groping around on the floor to find it.
Features:
· Up to two dozen accessories can hang comfortably on the rack
· The non-slip velvet surface will keep your accessories on the rack and off the floor
· The ultra-slim design economizes space
NOTE: Colour of all items - BLACK
Package Content:
1 x 100 Black Space Saving Velvet Coat Hangers
---