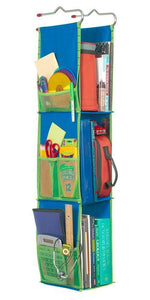 Amazon
LockerWorks 3 Shelf Hanging Locker Organizer, 22-38 Inches Tall, Side Pockets, Suspends from Hooks, Shelf, or Closet Rod - Royal Blue/Green
Regular price
$23.95
Sale price
$26.95
Unit price
per
Brand: LockerWorks
Color: Royal Blue/Green
Features:
Flexible hanging locker organizer
Sturdy shelves expand usable locker space
Suspends from shelf, hooks or rod
Adjusts to fit both full and half lockers
Publisher: LockerWorks
Details: LockerWorks is a flexible organizer that hangs inside the locker, not on the door, and expands usable locker space while leaving room for coats, backpacks, etc. It's constructed of heavy duty fabric with steel hangers, rigid shelf inserts, and handy mesh side pockets that keep smaller items organized and in view. Suspend the LockerWorks organizer from a shelf, hooks, or rod. It creates sturdy shelves and adjusts to fit both full-size and half lockersÑideal for shared space! Dimensions are 36x6x9 in the fully extended mode (shown here) and 24x6x9 when adjusted to fit half lockers. Each side has multiple hanger positions, allowing for easy installation when locker hooks are mounted at different levels.
UPC: 94922963932
EAN: 94922963932
Package Dimensions: 10.0 x 7.0 x 1.9 inches
---