• BathroomRenovation • Before • Duplex • EntireHomes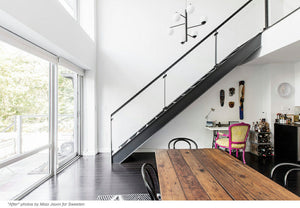 Brooke and Sam knew they were home when they walked into this 1,800-foot, loft-style Brooklyn condo. The three-bedroom Fort Greene apartment was modern and gave them room to grow. That was good, because by the time they'd closed on it, they had  one-week-old baby Leroy in their arms. Brooke, a digital media exec, and Sam, a tech specialist, loved the sleek two-floor space, but wanted to freshen up the kitchen and (three!) baths, and give the apartment whimsical style. While in contract, they'd posted their project on Sweeten, a free service that matches renovators with vetted general contractors. Soon, they'd...
---
• Before • EntireHomes • HC • MurrayHill • NewYork • OC • Renovation
A Manhattan apartment with wall-to-wall windows overlooking Park Avenue demands an undistracting interior. That's just one reason why it was a match for John, a minimalist seeking to upsize in the city. The finance exec closed on the two-bedroom abode in the Murray Hill neighborhood and was committed to an expansive renovation before moving in. Aspiring to a modern, clean aesthetic, he hired architect and designer Aurora Farewell, who works in New York and Connecticut, to oversee the project and to take the space to spare and spectacular. Aurora posted the project on Sweeten, a free service matching homeowners with vetted...