• Home • HomeHacks • Men • Organization • Shoes
s Most likely, you have more shoes than you really need. No doubt you have an individual reason for each pair. But, what isn't okay, is having them piled next to the front door, spread across your bedroom floor or sporadically thrown where you take them off. This can cause accidents and may actually increase stress levels. A shoe organizer is the best way to avoid a shoe cull and ensure you keep your collection in top condition. Especially for those of you who collect grail-worthy men's sneakers. Whether you live alone or have a full household, you need a...
---
• FoodStorageContainers • Organization • OrganizationIdeas • Organizing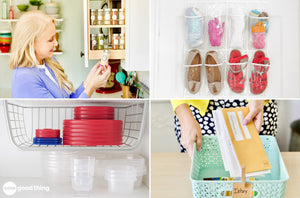 To get the very best advice, including advice about getting more organized, it's always wise to consult a professional. Because who better understands how to conquer clutter and keep things tidy and organized than those who do it for a living? Watching professionals help people on shows like Hot Mess House and Tidying Up with Marie Kondo can be a great way to get motivated about organizing your own home. But without the knowledge and experience to know which products are helpful and which aren't, you could easily end up wasting money at IKEA or The Container Store on things...
---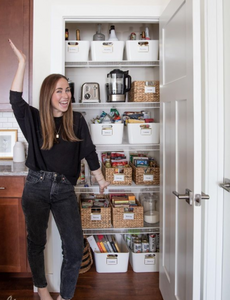 Moving into an apartment is so exciting and feels like a major step up from your college apartment or parent's house . I remember moving into my first apartment thinking I was going to have a ton of extra space since it was just me... but no. You are going to want to utilize every last inch of space in your apartment to store all your (amazing) crap without it looking messy. When I first moved into my apartment the biggest challenge was understanding that not every room can be organized the same way. I had no idea, and...
---
• AllPostsOnCollege • COLLEGE • Dorm • DormRoomOrganizationTips • Organization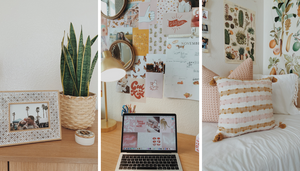 When I was moving into my dorm room the only thing I was thinking about was decorating (not kidding ), and organization never even crossed my mind. But trust me, there are so many things you have to bring with you to school there's no possible way to store it without some form of organization. While living in the dorms, I figured out what organization products I couldn't have lived without, and the organizers that were just, meh. I'm only sharing the best of the best with you today .  Organizing is not just about having your clothes neatly in...
---
• DIYCraftsTutorials • Gifts • Organization • ReclaimedWood • Remodeling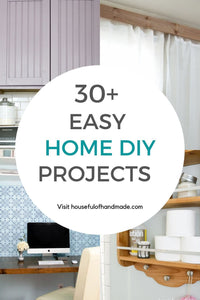 If you are looking for easy DIY projects that you can make in under 3 hours, you will love these 30+ home ideas. There are gift ideas for both Mom & Dad, as well as DIY planters, easy builds and storage projects. Take a look around and let me know what your favorite project is.  30+ Easy Home DIY Projects You Can Make In Under 3 Hours If you want to get some home projects done, but don't want to spend a bunch of time, this is for you. I've rounded up a great collecton of easy home DIY projects...