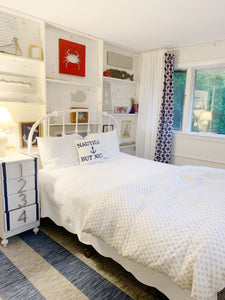 Just in case you were wondering? I am not some people. My brain is always project spinning. Even on vacation. So it was when I walked into this room at my mother's house up on Cape Cod. This is the room I have stayed in my whole life. When I was little I used to sleep on bunk beds in here and read Nancy Drew books. When I was a new mom, my kids would stay in here in a pack-n-play. I've spent more vacations in this room than all the seasons of Downton Abbey combined. And this year? We...
---
• BeforeAndAfter • Decorating • DIY • Mud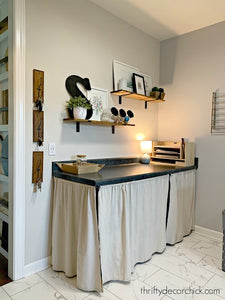 Whoohoo, the reveal day is here -- I'm done with the laundry and mud room makeover! The main goal of these updates was to add more functional storage, and I definitely accomplished that.  And even with all of that new storage, this has become the prettiest room in the house! It is so lovely! Marrying form and function is my favorite thing.  Before I share a million pictures, let's recap where we started and what I've added over the past couple of months. You can see my plan to add more storage to this mud/laundry room combo here. This side...