• AmberHome • Carrotez • DecoBrothers • Kitchen • MDesign
s   1. mDesign mDesign Plastic 12 Compartment Divided Drawer and Closet Storage Bin – Organizer for Scarves, Socks, Ties Bras, and Underwear – Dress Drawer Organizer, Shelf Organization – 2 Pack – Clear mDesign - Divided storage the perfect solution for organizing overcrowded and unorganized closets throughout the home perfect for controlling and containing clutter in busy households use side by side on shelves or in cabinets to create a larger storage system or use individually additional option to wall mount with predrilled holes in base Quality construction made of durable bpa and chlorine free shatterresistant plastic food safe...
---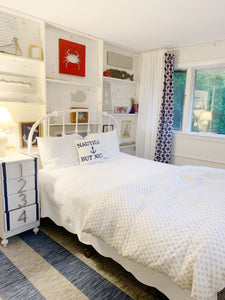 Just in case you were wondering? I am not some people. My brain is always project spinning. Even on vacation. So it was when I walked into this room at my mother's house up on Cape Cod. This is the room I have stayed in my whole life. When I was little I used to sleep on bunk beds in here and read Nancy Drew books. When I was a new mom, my kids would stay in here in a pack-n-play. I've spent more vacations in this room than all the seasons of Downton Abbey combined. And this year? We...
---
• AMADAHOMEFURNISHING • Amerock • KKAREZOG • OfficeProducts • Storage
s   1. Amerock Amerock H55662-MORB 27-Inch Beveled Hook Rack, Mahogany with Oil-Rubbed Bronze Hooks Amerock - 27 in 686 mm 5 hook hook rack Includes mounting hardware sizes 8 oval head screw x 1 58in Coordinates perfectly with matching amerock cabinet hardware finishes Finished in mahoganyoilrubbed bronze   2. Franklin Brass Franklin Brass Heavy Duty Coat and Hat Hook Rail Wall Hooks 4 Hooks, 16 Inches, White & Satin Nickel Finish, FBHDCH4-WSE-R Franklin Brass - Personal this hardware set will add style and function while still complementing your existing home décor Organize our wall hooks provide an abundance of...
---
• Bar • Chicago • OfficeNiche • RenovatingInTheMidwest • RoofDeck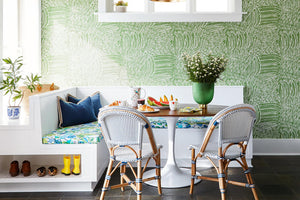 s (Above) Chicago design project by Carly Moeller. Photos by Dustin Halleck Photography. Like homeowners nationally, those in Chicago are looking to remodel their homes to do more and with style. When tackling remodeling projects, they're going beyond what's new. They're considering exactly what they want, prioritizing to meet the budget. The overriding themes: comfort, convenience, cleanliness, and wellness. With the help of interior designers, Carly Moeller of Unpatterned, and Emily Mackie of Inspired Interior, both based in Chicago, Sweeten explores Chicago home design trends to watch in 2021. Sweeten matches home renovation projects with vetted general contractors, offering advice,...
---
• DVDHowToWarpASectionalLoom • FinlanderBarnLoom • LoomUpdates • RestoringABarnLoom • WarpingASectionalLoom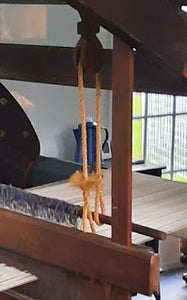 Although I would love to keep the Finlander Barn Loom as pristine and original as possible, I do need to do a couple adaptations to make it function better for my own use. I looked back over my loom scrapbook and see that I now have owned 34 looms in my lifetime! That means somewhere along the way, I have gleaned bits and pieces of innovations from different loom configurations to know what I like best for weaving under certain circumstances.  -There are adaptations you make to the big heavy rug looms.  -There are adaptations you make to the small...